The New Spring Menu, Filled with Locally Inspired Favorites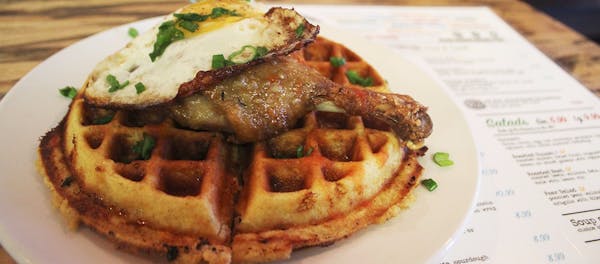 We just released what I think is the best menu we've ever done here at Fowl & Fodder. For those of you who stop by often, you know we change our menu seasonally. For those that are new to stopping by, we can't wait for you to experience the robust flavors that are unique to the seasonal menus we dish out here at Fowl & Fodder.
We opened the restaurant with the intent of having food that was completely unique to the Toledo area and not something you could just find anywhere. We are super excited to be partnering with local farmers who are some of Northwest Ohio's best agricultural producers. We are committed to supporting local and helping educate our community as there is a big educational gap between eating healthy and eating clean. We want to help bridge that gap.
There are some incredible people doing some amazing things in our local food scene. A handful of those regional family farms, our neighbors, continue to bring you the healthiest, most naturally sourced food options around. That's what makes the trip to Fowl & Fodder extra special; it's good for you, and because of that, it tastes even better.
A new addition to the spring menu is our partnership with Hartzler Dairy. They do pasture raised, Non-GMO products throughout the Cleveland area and specialize in high quality milk and butter. You can experience the Hartlzer Dairy difference by trying their yogurt in our yogurt parfait and smoothies, their delicious aged white cheddar cheese on many of our sandwiches, and their butter which we use on various breakfast items.
You can also try Smoking Goose's charcuterie on our new spring menu. Their smoked meats, sausages, and salumi are wicked good. They partner with small family farms in Indiana and neighboring states raising animals as nature intended: ethically and pasture raised, using 100% vegetarian feed.
Not only do we have some new partners and farms on this menu, we also have some new flavors and options for breakfast and lunch that are sure to please. The Short Ribs, Croque Madame, Nduja Lettuce Wraps, Duck Waffles, Carmel Praline French Toast, Kim-Chi Tacos and the new spin on the house burger are already receiving rave reviews. So stop in. Spring has sprung and you can taste the flavors from all around the region on this exciting new menu.
Also, if you are interested in learning even more about our local partners and farms, make sure to stop by our blog next week to gain additional insight into who those partners are, what products they offer, how you can get those products on your own table, and if those farms deliver somewhere close to your neck of the woods.
We are committed to serving real food, from real farms, for real people just like you. And not only when you eat at our restaurant, but outside of it as well!
Happy Eating Toledo,
Chef Scott