Fowl and Fodder, through the Eyes of Chef Scott Bowman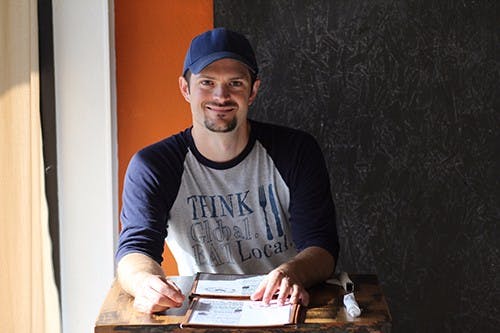 A menu seems like a simple thing at first. It's a list of dishes available in a restaurant. Some exotic, some plain, with usually a little something for everyone. Just like a menu, life is full of these dishes too. And every day we ask: Which one should I choose? Which will be the best, the tastiest, the most fulfilling? What am I craving right now?
Ten years ago, I was working in a corporate restaurant as a general manager. I chose the dish that was safe. The dish that had little flare but would always be there. A steady dish, the same old routine that offered minimal challenge and very little personal fulfillment. I knew something was missing.
I began a brainstorming process with my wonderful wife and closest friends, to come up with the restaurant concept that would eventually become Fowl and Fodder. For the first time in my career, I was going for the mysterious, unknown dish. Something off the menu, something I had never tried before. The excitement of getting out on my own was incredible. I could finally do what I had always wanted to do. Something the corporate world didn't let people in my position do. It was like a dream I had never thought possible before.
I would get to create something real and unique. My passion for art would come out in my food. I could now use this passion and begin a new adventure designing, developing, and creating my restaurant. I began reaching out to anyone and everyone for advice and help with financing this dream that began to feel so real. I familiarized myself with a crowd-funding website called Kickstarter, and realized that this was it. Not only could I raise funds to get my restaurant open but I could include my future guests in the process. They could be a part of what was meant to be for THEM anyway. It was perfect.
I was able to meet so many wonderful people passionate about local food before I even opened the doors. The community was involved with Fowl and Fodder from the beginning, and about this time I realized I was just a part of something larger. A movement of people, proud of their city, their culture and their food. A movement that needed to be fed. It was time for my next dish.
I was meeting local farmers and producers in our area, and I filled my kitchen with their food. I was ready to begin testing and experimenting with my new products. This time I created the dish in earnest. The dish took several hours of critiquing and experimenting, peeling and slicing, chopping and dicing, this dish was made from scratch with only the finest ingredients our area can offer. Fowl and Fodder was ready to open the doors.
That moment of accomplishment was amazing. Not an I anymore, but an entire group of people from through Toledo. Farmers, dairies, bakeries, restauranteurs and normal every day diners coming together to make something incredible. We had done it. We had opened a restaurant that we could be proud of, something unique and challenging and all together our own.
This was only the beginning. I was in for a long first year. Our name was slowly making its name around but we needed to get more guests in the doors if we were going to survive. We were struggling. We had to keep going. We couldn't give up. We knew we had something special to offer everyone in Toledo. If the passion, hard work, and drive is there to succeed, the possibilities become endless. We continued to hold on tight. We used social media, radio ads, and door to door advertising to spread awareness about our existence. It was working. People were starting to hear about us. Rumors of our ethically sourced, delicious, scratch made menu were spreading throughout town. Repeat guests were coming in sometimes multiple times a week to eat. They couldn't get enough and I couldn't get enough of them either. I was developing real, down to earth friendships with both my team and my guests. And it was working.
I felt beyond grateful. My heart filled as guests began to trust me and flatter me with compliments of their experience and love for my food. My food! That's the best part of this whole journey. The people. My guests, my farmers, my friends. Who can say they go to work every single day with their best friends? I am beyond blessed to have made the leap and landed on both my feet, surrounded by people who love what we do and believe in our vision. I work with an incredible staff and I engage with incredible guests every single day. These people are all here for me. They care about my success. They believe in my dream. They believe in me and that is why I can write this story today.
-Scott Bowman
PS: Our next dish will be an adventurous one as we begin the journey in expanding and improving Fowl and Fodder while opening our newest location in downtown Toledo. We are so excited to have you as part of this ride. We couldn't do it without you Toledo!